Create a treasured momento from your favorite photos!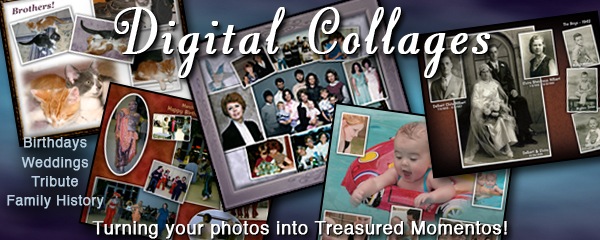 Digital collages are a great way to take your favorite photos and turn them into a treasured family momento!  
(Scroll down to view our Collage Portfolio.  Click on a thumbnail to view larger.)
Adding text or graphic images will make the collage even more personal and memorable, so if there is a favorite hobby, collectible, poem, or even a joke that has a special meaning, we can incorporate it into the collage.
In addition to digital collages, we can also digitally create wedding or other special event albums!
How It Works:
You send us your digital photographs, images, and/or text, and we will create a collage...once we have your approval, we will make available to you a high-resolution download and send you a digital copy on a CD.  If you wish us to print and mail the image to you, we have an excellent photo finisher with reasonable prices!
We Offer:
-  Original Designs (based on number and size of the originals)
-  Custom Size Collages are available (Standard Sizes are 8"x10" ; 11"x14" ; 16"x20")
-  Digital low resolution proofs
-  CD with final high resolution image mailed to you (suitable for printing at your favorite shop)
-  Photo Scanning Available
-  Prompt Service
We have created over 30 albums for JCT Photography and other clients.  We do not have 'standard' layouts or templates that we use in any of our collages or albums.  We let the photos inspire us as to placement and design!